PRE-Employment Transition Services (Pre-ETS) (Ages 14 to 22)
Spring Break: March 25 to March 29 2019
Summer Camp: June 10 to August 9 2019
Being a teenager can be difficult at times, but being a teenager with a visual impairment presents a whole new set of challenges. The Pre-Employment Transition Services is a year-round program that provides individuals 14-22 the opportunity to develop skills to enter the work force or post-secondary education. Students learn important life skills like home and personal management, assistive technology, job readiness, orientation and mobility, social skills and community integration. They are able to use the kitchen, prepare their own meals using safe techniques, and learn how they can label and organize their own home so they can access things without limitations. Students keep up to date resumes, participate in job interviews and are able to participate in on-the job training. The goal is to help these children reach their full potential, for some of the students improving Braille Literacy is an important component of their curriculum. In 2017, 43 teenagers were served in our Pre-Employment Transition Services program.
The Pre-Employment Transition Services Program is year-round. During the school year, the program meets every Saturday and on Miami-Dade County Public Schools Teacher Work Days. In addition to the training listed above, students attend a number of field trips throughout the community, participate in interesting seminars and workshops, and receive training in the latest technology, such as iPads.
During the summer, the program offers a nine week summer program from June 11th to August 10th, 2018. Every Thursday students attend field trips that promote community engagement. If you would like more information or are interested in joining, please contact Betty Chavarria, Manager of Transition and Education Services at 786-362-7523 or bchavarria@miamilighthouse.org.
Miami Lighthouse Pre-ETS/Transition Students Receive OrCam Assistive Devices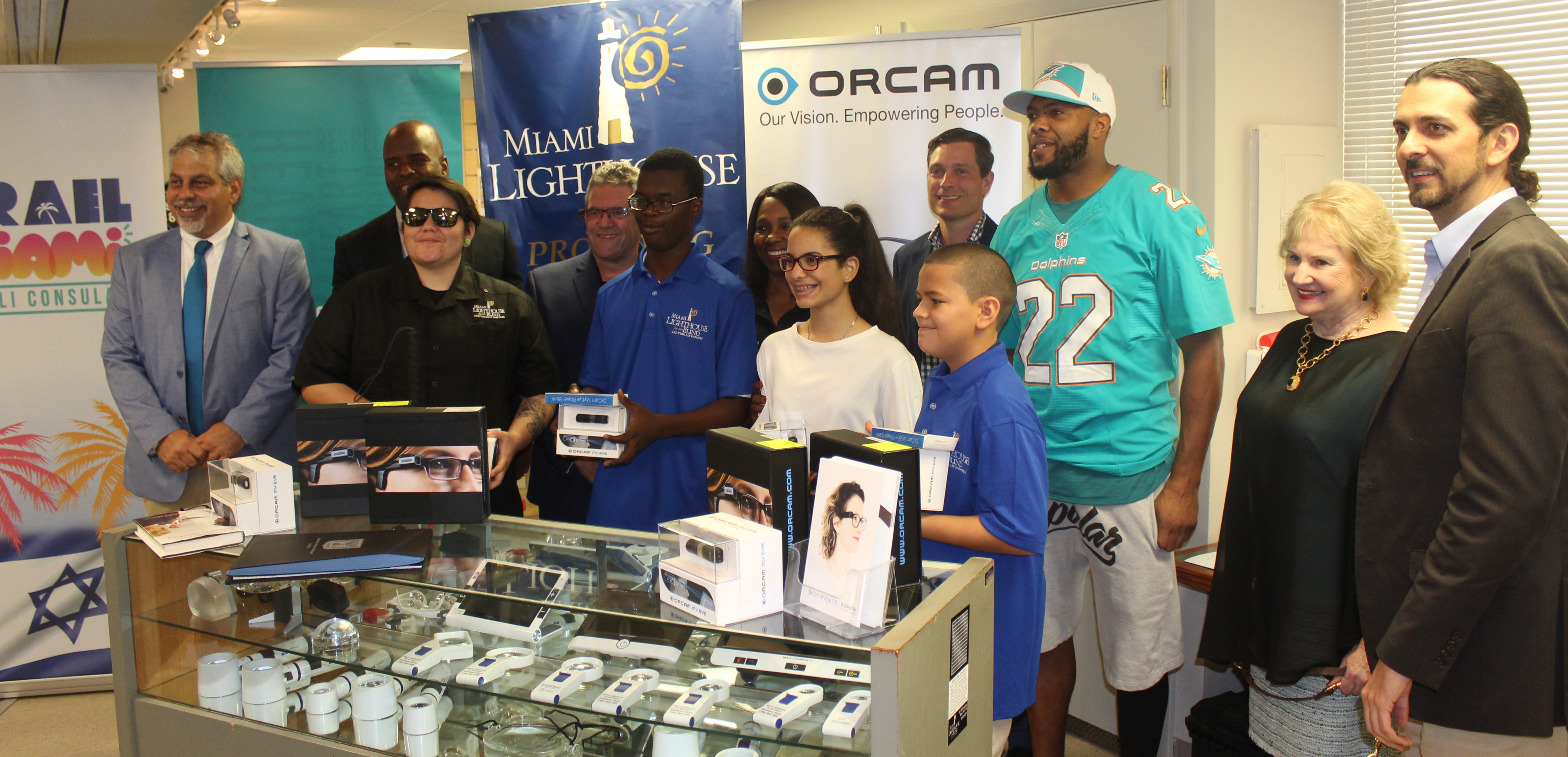 Left to right front: Lior Haiat, Israel Consul General; Sebastian Torres; Marnel Jean; Emily Bejerano; Diandre Incera
Rear: Jason Jenkins, Miami Dolphins; Motti Attia, Orcam; Leslie Nixon, Miami Dolphins; Marcus Bach-Armas, Miami Dolphins;
TJ McDonald, Miami Dolphins; CEO Virginia Jacko, Miami Lighthouse and Ariel Roman-Harris, Israeli Consulate
Three of our Pre-ETS/Transition students, Emily, Diandre, and Marnel received an OrCam, a portable, wearable, light-weight smart camera for blind and visually impaired persons. It reads aloud printed or digital text, and identifies faces, products, and paper money all in real time. The students received the OrCams a result of a team effort between the Miami Dolphins, Israel Consulate in Miami, and OrCam.
Representatives from the three organizations visited the Miami Lighthouse to distribute the device, demonstrate its capabilities and train the students on how to use it. Diandre stated, "I have an interest in the law and helping people out. I want to be a lawyer. I think this OrCam is really going to help me achieve that goal." Emily said, "The OrCam has been a great change in my life and [will positively impact] my future." According to Marnel, "The OrCam has allowed me to be more productive in life. Not only has it allowed me to be more efficient in my work, I now have the opportunity to compete in a fast-paced work environment where the size of the print does not dictate the quality and value of my work."



Receive a free website consultation for accessibility compliance today

Website Auditing



Find out how thousands of Florida schoolchildren receive free comprehensive eye exams and prescription eyeglasses each year

Florida Heiken Program


"Thank you from the bottom of my heart for the beautiful work that you do with my son Erick. May God bless him."
- Greila


"Miami Lighthouse for the Blind has changed the lives of my family and our daughter. Without your support and constant encouragement, raising an infant who is visually impaired would be overwhelming, scary and clouded with sadness. Instead, our family feels privileged to be able to be
a part of this incredible organization, thanks to our daughter. She is currently enrolled at the school
and has participated in the infant programs – the effort and individual attention you provide to the families and students goes beyond an individual
job description and salary – the drive comes solely from their passion to service those who are often overlooked in our society. I cannot thank you
enough for your dedication."
- Lisa Jess