Miami Lighthouse Music Program
Music Program Summer Camp Dates:
June 18th - July 27th 2018
WLRN Sundial interview of Miami Lighthouse music instructors about a new musical score to The Great Train Robbery, the iconic silent film, performed at Music Under the Stars on May 16th 2018.
Play audio here
For information about hiring our musicians to perform at events click here.
Miami Lighthouse for the Blind is the only agency in the nation that provides all-inclusive music, MIDI, audio instruction and youth development programs for the blind and visually impaired. Also, Miami Lighthouse provides the only comprehensive Braille music distance learning curriculum accessible to any musician worldwide.
Today, with the advent of digital recording, Pro Tools has become a popular professional multi-track music production program. In the past, Pro Tools was not available to those with sight deficiencies. Our copyrighted curriculum is a step-by-step guide for Pro Tools using Voice-Over commands. Advanced Technology Access with Voice-Over on Mac™ A Pro Tools Curriculum for the Visually Impaired is available to students in our Better Chance Music Program by clicking here and entering the password provided by the instructor.
The Better Chance Music Production Program provides innovative year-round music education targeting sighted and visually impaired young adults, utilizing music appreciation, instruction and exploration as the tools to foster work readiness skills, and enhance self-efficacy and positive peer relations. It paves the way for our students to enter mainstream careers in the music field and provides the opportunity for blind musicians to learn how to work and perform in a sighted world. Braille Music is taught through a copyrighted distance learning curriculum. In 2015, 212 clients were served with 8,208 hours of service.
The Henry & Inez Stone Music & Sound Studio offers program participants an opportunity to learn the latest techniques with skilled music professionals, in a state-of-the-art setting.
The primary technology used by program participants is MIDI (Multiple Instrument Digital Interface), which enables electronic instruments such as a musical keyboard synthesizer, acoustic guitar, sampler, sequencer and drum machine from any manufacturer to communicate with one another and with a common computer.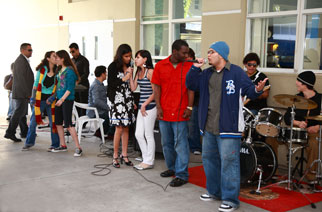 This valuable instruction is critical in today's music industry, fostering independence and creativity as students manipulate music to produce viable compositions. Additional industry relevant technologies of the program include:
Cakewalk (Sonar) which converts a standard PC into a multi-track recording studio. This software is specifically used by the blind to interface with JAWS for Windows, a talking software that enables blind users to improve their productivity level by streamlining keyboard functions, automating commands, and eliminating repetition.
Pro Tools is an integration of hardware/software widely used by professionals throughout the audio industries for recording and editing in music production, mastering audio tracks; film scoring, television and post production.
In addition to Cakewalk (Sonar) and Pro Tools, the program allsp utilizes Logic Audio, Propeller Head Reason, Sibelius, Roland, and M-Audio products. Instruction is offered on Apple and PC computers.
Our Better Chance Music Production Program and our instructors have received national and international recognition. It was awarded a grant by the Mockingbird Foundation, an all-volunteer nonprofit organization founded by the fans of the poplar band Phish supporting music education for children. Ten grantees were selected from among 1,303 initial applicants from throughout the United States. In addition to the Mockingbird Foundation, The Henry W. Bull Foundation, Carnival Foundation, the John S. and James L. Knight Foundation, Ronald McDonald House Charities of South Florida, the Wildflower Foundation, the Helliwell Family Foundation and the William and Helen Thomas Charitable Trust have awarded grants in support of our Better Chance Music Program and Braille music curriculum.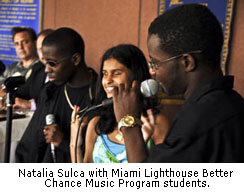 Our Miami Lighthouse acclaimed Music Program gives students the skills and experience they need to succeed at post-secondary education. Natalia Sulca, a Music Program alumnae, graduated with honors from the prestigious Berklee School of Music in Boston, Massachusetts. She was a part of Miami Lighthouse for many years receiving vocational rehabilitation, including instruction in songwriting, music performance and production. Natalia is a talented singer and songwriter, and her compositions and performances have been featured on Miami Lighthouse CDs. In 2013 Natalia performed the opening song for Alexandro Sanz, winner of the Latin Grammy for Best Vocal Contemporary Album, at the 2013 Latin Grammy Awards ceremony. Her story shows what a blind child who participates in Miami Lighthouse programs can achieve.
Music Program Testimonials
| | | | |
| --- | --- | --- | --- |
| | "I liked studying science and math in school, but music makes me happy. I have some vision, but when I'm here at the Lighthouse, playing in the band with all my friends, that's what it's all about." | "My godfather is a professional musician. He plays the trumpet, but I really like the trombone. I've learned so much here at the Lighthouse. I come to the Music Program religiously every Saturday to continue to evolve and learn, especially from music instructor Carlos Camacho. I am already getting some paid gigs." | |
"I've been playing the drums since I was nine years old. I've never been sighted, but it's never stopped me from wanting to learn new things. Among those 'new things' is work with the synthesizer and learning to use the braille version of ProTools to create my own recordings. I've been a Lighthouse band member for more than three years. I love to play and reminisce about gigs at New York's famed Apollo Theater and the Village Gate."

"This Music Program is a wonderful thing. I've been coming here for two years, and I'm learning to work with computers in the braille music program. Finding the Lighthouse has made a big difference in my life."
Click here to view a letter from an instructor at Dr. Michael Krop Senior High School.
Music program students have recorded five CDs: See the Light, It's Not Impossible, A Better Chance, Holiday Joy and Love and Fables and Favorites. All vocals and instrumentals on the CDs are original—written, performed and recorded by the students.
To order any of our CDs call the Miami Lighthouse Vision Solutions Center at 305.856.9100.
Miami Lighthouse "Un centro que ayuda personas no videntes"
Click here to watch Univision 23 video "Miami Lighthouse: Un centro que ayuda personas no videntes".
Parent Testimonial
My husband and I are very impressed with your organization. The services that you provide to the community are incredible. My son Hobie Benson enjoys going to your center to learn and serve in the community each opportunity he can. Your music program has enhanced Hobie's music talents and he is grateful to be part of The Miami Lighthouse.
The staff at your center shows professionalism and commitment to the community and to the children involved in the summer program and also the program during the school year on the weekends.
Thank you for taking your position at the Lighthouse with such effort and consideration to others.
I would recommend this program to any friends with a score of Excellency.
Please reach out to me whenever you need anything for the center.
Jenny Benson, RN, BSN, CCRP
University of Miami Health System
Inpatient Unit-Research Services
1475 N.W. 12 Avenue, Suite 2076
Miami, Fl 33136
j.benson2@med.miami.edu
305-724-7760
Miami Lighthouse Music Instructors and Staff
John Nichols – Music Program Manager
Carlos Camacho – Brass, Wind, and Bass
Oman Pedreira – Strings
Julio Fumero – Piano and Keyboard
Gerardo Ubieda – Percussion
Jeff Zavak – Woodwinds and Brass
The Miami Lighthouse for the Blind and Visually Impaired – Better Chance Music Production Program™ is funded in part by the Children's Trust. The Children's Trust is a dedicated source of revenue established by voter referendum to improve the lives of children and families in Miami-Dade County.

Receive a free website consultation for accessibility compliance today

Website Auditing



Find out how thousands of Florida schoolchildren receive free comprehensive eye exams and prescription eyeglasses each year

Florida Heiken Program


"Thank you from the bottom of my heart for the beautiful work that you do with my son Erick. May God bless him."
- Greila


"Miami Lighthouse for the Blind has changed the lives of my family and our daughter. Without your support and constant encouragement, raising an infant who is visually impaired would be overwhelming, scary and clouded with sadness. Instead, our family feels privileged to be able to be
a part of this incredible organization, thanks to our daughter. She is currently enrolled at the school
and has participated in the infant programs – the effort and individual attention you provide to the families and students goes beyond an individual
job description and salary – the drive comes solely from their passion to service those who are often overlooked in our society. I cannot thank you
enough for your dedication."
- Lisa Jess