Senior Group and Health Activities Classes (SGA): Activities and Classes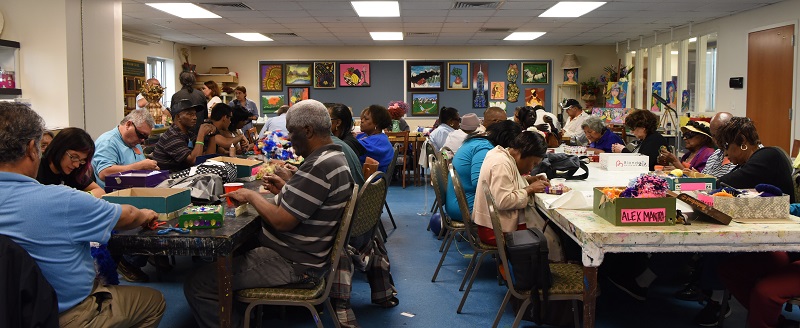 The primary goal of the Social Group Health and Activities Program (SGA) is to facilitate independence and enhance socialization skills for older adults with significant and uncorrectable vision loss through the use of arts and crafts, social activities, and health monitoring groups.
Therapeutic Services
This is a therapeutic program of social and health services that individuals in our community are unable to access in other locations due to the fact that Miami Lighthouse is the sole provider in Miami-Dade County offering professional vision rehabilitation along with health related services. Through this program, clients are able to access services to technology, where they can receive private instruction on how to use assistive devices. Support groups and counseling services are provided daily by the Mental Health Counselor. Clients will also have access to the Low Vision store where they can learn about and purchase new adaptive technology to help them enhance their independence. Recreation activities are provided daily by the Therapeutic Recreation Specialist. These activities are designed to increase clients skills and maximize their independence.
Registered Dietitian
Because one-third of SGA participants are diabetic and often this is the reason for vision loss (diabetic retinopathy), a registered dietitian provides one-on-one nutritional counseling. Therapeutic services are provided along with instruction on accessing technology, ESOL and adult basic education and support groups.
Arts and Crafts, Music Therapy and Fitness
Arts and crafts improve fine motor skills like dexterity, necessary for Braille comprehension. Our trained staff uses various art activities such as painting and ceramics to increase creativity, socialization, and self-esteem. Fitness and wellness activities include exercise and field trips to local parks and areas of interest. Music Therapy instruction is provided, which has been proven to alleviate symptoms of depression in the elderly. One in four people with macular degeneration develop clinical depression. Such seniors suffering from age-related vision loss remain isolated in their home, and the SGA Program helps them overcome depression and gives them the opportunity to interact with visually impaired peers in a social environment.