For information about hiring our musicians to perform at events
click here.
---
About our Miami Lighthouse Music Program
The only organization in the nation offering all-inclusive music, audio instruction, and youth development programs for the blind and visually impaired, Miami Lighthouse is a leader in Music education and facilitation for the blind and visually impaired. Miami Lighthouse provides the only comprehensive Braille music distance learning curriculum, which is accessible at all times, to any musician, anywhere in the world. Miami Lighthouse offers several innovative programs that are opening doors to careers in music and in lifelong appreciation and enjoyment.
For more information and to register for Braille music distance learning Contact Jin Choi our Braille and Assistive Technology Specialist, Library of Congress-Certified Braillist in Literature & Music at 786-362-7458.
---
Better Chance Music Program Youth Summer Music Camp for grades 6-12
Founded in 2007, our inclusive Better Chance Music Program fosters careers in performance, song writing and sound engineering along with enhanced self-efficacy and positive peer relations for all levels of ability. During the summer, Miami Lighthouse presents a unique, entrepreneurial music camp that brings visually impaired students and their sighted peers together for an innovative experience. The camp applies musical skills in a realistic industry environment. Students will learn how to arrange various songs in a team-based ensemble environment, participate in performances at popular local venues, write and record their own original compositions, and develop entrepreneurial skills that will be applicable to any career path they choose to pursue. Our Positive and supportive social environment allows students to build lasting relationships and make memories they will cherish their entire lives, all while developing relevant skills.
For more information, please email Carol Brady-Simmons Chief Program Officer at csimmons@miamilighthouse.org or call her at 786-362-7480.
---
Music Program Testimonials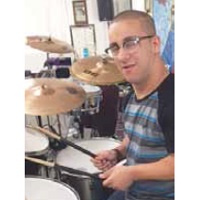 "I liked studying science and math in school, but music makes me happy. I have some vision, but when I'm here at the Lighthouse, playing in the band with all my friends, that's what it's all about."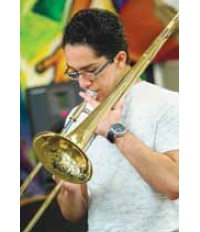 "My godfather is a professional musician. He plays the trumpet, but I really like the trombone. I've learned so much here at the Lighthouse. I come to the Music Program religiously every Saturday to continue to evolve and learn, especially from music instructor Carlos Camacho. I am already getting some paid gigs."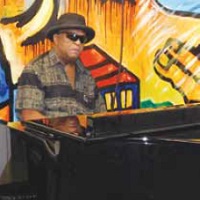 "I've been playing the drums since I was nine years old. I've never been sighted, but it's never stopped me from wanting to learn new things. Among those 'new things' is work with the synthesizer and learning to use the braille version of ProTools to create my own recordings. I've been a Lighthouse band member for more than three years. I love to play and reminisce about gigs at New York's famed Apollo Theater and the Village Gate."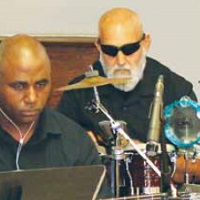 "This Music Program is a wonderful thing. I've been coming here for two years, and I'm learning to work with computers in the braille music program. Finding the Lighthouse has made a big difference in my life."
---
Parent Testimonial
My husband and I are very impressed with your organization. The services that you provide to the community are incredible. My son Hobie Benson enjoys going to your center to learn and serve in the community each opportunity he can. Your music program has enhanced Hobie's music talents and he is grateful to be part of The Miami Lighthouse.
The staff at your center shows professionalism and commitment to the community and to the children involved in the summer program and also the program during the school year on the weekends.
Thank you for taking your position at the Lighthouse with such effort and consideration to others.
I would recommend this program to any friends with a score of Excellency.
Please reach out to me whenever you need anything for the center.
Jenny Benson, Parent