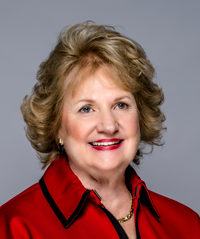 Virginia A. Jacko, President and CEO
Virginia A. Jacko is a blind visionary in a sighted world, who attributes her continuing success as an experienced financial executive to her vocational rehabilitation at Miami Lighthouse.
During her tenure, the number of clients has increased from fewer than 500 in 2004 to over 15,000 today. A variety of innovative new programs in Braille and technology literacy, adult basic education, GED, ESOL, job readiness, music, ceramic arts, year-round programming for blind and visually impaired schoolchildren, pre-kindergartens for blind and visually impaired three- and four-year olds and eye wellness services to schoolchildren throughout the State of Florida. Miami Lighthouse is recognized as a national Center of Excellence through professional publications and academic presentations.
Since CEO Jacko took the reins in 2005, the Miami Lighthouse operating budget has increased fourfold through donor cultivation and successful grant applications. Miami Lighthouse also has achieved eight consecutive four-star rankings from Charity Navigator under her tenure, placing it in the top 2 percent of not-for-profits in the nation.
Ms. Jacko writes about and is a sought-after guest speaker for business groups, chambers of commerce and national conferences on topics such as board governance, nonprofit accounting and accessibility for the blind and visually impaired. She holds a Bachelor of Business Administration from Loyola University (Chicago) and a Master of Science from Purdue University. In 2012 she was named Distinguished Alumna by the Purdue College of Health and Human Sciences and the HHS Alumni Association, Purdue University. She was named to the South Florida Business Journal 2016 class of Influential Businesswomen.
Recent Publications:
Book: The Blind Visionary, with Doug Eadie, Governance Edge Press, 2009. (Available from Governance Edge Press at www.theblindvisionary.com)
Articles:
"A New Synthesis of Sound and Tactile Music Code Instruction:
Implementation Issues of a Pilot Online Braille Music Curriculum,"
Virginia A. Jacko, Jin Ho Choi, Audrey Carballo, Brian Charlson and
J. Elton Moore, Journal of Visual Impairment and Blindness,
scheduled for publication in the Spring 2015 issue.
"Blind Babies Play Program: A Model for Affordable, Sustainable Early
Childhood Literacy Intervention through Play and Socialization,"
Virginia Jacko, Roxann Mayros, Carol Brady-Simmons, Isabel Chica,
and J. Elton Moore, Journal of Visual Impairment and Blindness,
pp. 238-242.
"Florida Heiken Children's Vision Program: Vision Care for Needy
Schoolchildren," Virginia A. Jacko, M.S., Alan P. Levitt, O.D.,
Steven E. Marcus, Ed.D., and Alfred A. Rosenbloom, O.D., D.O.S.,
Optometry: Journal of the American Optometric Association,
Vol. 83, No. 1, pp.43-46, January 2012..
"Distance Learning Accessibility Issues in Higher Education,"
Chronicle of Higher Education, May 2011.
"Mainstream Employment in Music Production for Individuals Who Are
Visually Impaired: Development of a Model Training Program," by
Virginia Jacko, Harold Cobo, Antonio Cobo, Rachelle Fleming, and
J. Elton Moore, in the Practice Perspectives section of the Journal of
Visual Impairment and Blindness, September 2010.
"Building a Rock-Solid Board/CEO Partnership: Talking with CEO
Virginia Jacko" by Doug Eadie, May/June Nonprofit World
May/June 2009
"Intervention through Art for Adults Who Are Blind or Visually Impaired,"
with Amy R. McKenzie, Ed.D., and Tatiana Palma, B.S., Journal of the
Association for Education and Rehabilitation of the Blind and Visually
Impaired, February 2009
"Leading and Managing Governance Change," with Miami Lighthouse
Board Chairman William R. Roy and consultant Doug Eadie,
NonProfit World, May/June 2008

Awards (since 2007):
Molina Health Care Community Champion Award, 2014
AXA Advisors Businesswoman of the Year, Public Servant/Non
Profit Professional category, 2014
One of ten distinguished alums honored by Purdue University
as an "Old Master," 2013
Most Valuable Non-Profit Award, Switchboard of Miami, 2013
Junior League of Miami "Women Who Make a Difference" Honoree, 2013
Recipient of Bronze medal in Miami Today's Gold Medal Awards
Florida Heiken Children's Vision Program's service to thousands
of under-served children in public schools, 2012
Claude Pepper, Thelma Gibson 2012 Award for Community Service
Florida Women of Achievement 2012
South Florida Business Journal Excellence in Health Care Award,
Non-Profit, 2011
Coral Gables Chamber of Commerce 2010 Sapphire Award,
nonprofit category, Miami Lighthouse for the Blind and Visually Impaired
Nancy Hughes Community Commitment Award presented at the
Miami-Dade County Days Awards Luncheon in Tallahassee, April 2010
Business Leader Media's Movers & Shakers Award, 2009
South Florida Hispanic Chamber of Commerce Women of
Leadership Award, 2009
Miami-Dade County Parks In the Company of Women Award, 2009
Finalist, Greater Miami Chamber of Commerce Health Care
Heroes Award, 2009
Health Foundation of South Florida Concern Award, 2008
AXA Advisory Business Woman of the Year,
Public Service/Non-Profit, 2008
Women's Power Caucus Quiet Storm Achiever, 2008
South Florida Business Journal Business Woman of the Year,
Non-Profit, 2007
Service:
Board Director, National Accreditation Council for Blind and Low
Vision Services
Trustee, Greater Miami Chamber of Commerce
Trustee, American Printing House for the Blind
Board Director, Florida Association of Agencies Serving the Blind (FAASB)
Board Director, Lions for the Blind
Past Chair, Advisory Council on Disabilities, American Red Cross of
Greater Miami and the Keys
Past Member, United Way Early Childhood Center of Excellence Advisory
Committee