History of Miami Lighthouse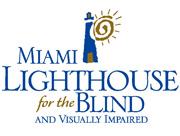 Highlights of Current Miami Lighthouse for the Blind and Visually Impaired Programs
Founded in 1931 as the Florida Association of Workers for the Blind, Miami Lighthouse for the Blind and Visually Impaired has changed more than just its name during its 85-year history as Florida's premier rehabilitation organization of serving the blind. Miami Lighthouse now serves nearly 15,000 people each year and reaches and additional 3,300 through community education and outreach programs. With the merger of the Miami Dade Optometric Physicians Association's Dr. Bruce Heiken Memorial Fund in 2007, the mission was expanded to include comprehensive eye exams and prescription glasses for underserved schoolchildren throughout Florida using our fleet of mobile eye care units and network of optometrists.
Innovative new programs for all ages have empowered a wider range of people ranging from mothers' play days with their blind toddlers to adult education/GED and ESOL classes for adults offered in collaboration with Miami-Dade County Public Schools. Health monitoring, arts and recreation are offered daily to visually impaired seniors as part of a Miami-Dade County and Florida Division of Blind Services elder care program. As the recipient of one of the highly coveted Florida Blue Foundation Sapphire Awards for innovation in health care, Miami Lighthouse was invited to apply for and was subsequently awarded their "Advance Innovation and Promote Solutions in the Health Care System" grant which provides low vision assessments at senior centers throughout Miami-Dade and Monroe Counties, continuing education for health care professionals working with seniors affected by age-related eye disease and an expanded internship program with Florida International University building upon other academic collaborations throughout the United States. Its nationally recognized music inclusion program with its state-of-the-art sound studio prepares students for higher education and employment in the mainstream music industry. Changing focus from its original sheltered workshop model, the Miami Lighthouse for the Blind has built a strong job readiness training program to prepare its clients for competitive, integrated employment.
With a priority for early learning, this fall Miami Lighthouse launched its pre-kindergarten pilot program for visually impaired children and their sighted peers, and construction has begun on our new Lighthouse Learning Center for Children™. To view building progress, please visit the "Learning Center Contraction" tab. Adjacent to our main building and slated to open fall semester 2017, this new facility will have five classrooms for blind and visually impaired children from birth to age five. Our goal is to level the academic playing when these visually impaired children enter the school system with their sighted peers.
To explore the current vision rehabilitation programs offered by Miami Lighthouse, please go to the "Services and Programs" tab.
Our History of Collaboration
BASCOM PALMER EYE INSTITUTE
As a University of Miami trustee and chairman of the Medical School Committee, Dr. Bascom Palmer was in a position to help generate personal and financial support through his informal group meetings. As a result of his activities with the Miami Rotary Club, he also became involved with Miami Lighthouse for the Blind. He solicited money for Miami Lighthouse, served as its president of the board from 1947 to 1952, and started a Miami Lighthouse satellite in Overtown to serve its local community. He also established a fund at Miami Lighthouse devoted to another dream he harbored: the creation of an eye hospital in Miami. As early as 1943 Dr. Palmer and members of the Lighthouse began discussing the feasibility of establishing an eye clinic in Miami. Five years later, the Lighthouse purchased the land for the proposed clinic, the site where the Anne Bates Leach Eye Hospital now stands. In 1948 there was an article in the Miami Herald entitled "Site Acquired to Construct Eye Clinic." It stated that, "land has been acquired for construction of a building to house an eye clinic, open to all persons who are without means of having their eyes tested." The property was purchased for $15,000 in August of 1948 and was located on N.W. 17th Street between 9th and 10th Avenues, which was across the street from the entrance to Jackson Memorial Hospital. Until sufficient funds were raised to build an eye clinic, it was operated as a parking lot and employed a blind attendant. This property was subsequently the subject of a dispute, was condemned, and the Lighthouse placed the proceeds from the condemnation award with other funds contributed to the eye clinic. Dr. Palmer died in 1954. Without his leadership the fund to build the eye clinic ceased to grow.
Sometime later Dr. Edward W. D. Norton, the newly appointed Chairman of the Department of Ophthalmology at the University of Miami's School of Medicine, approached Miami Lighthouse Board Director Maurice Harrison [current Miami Lighthouse Board Director Peter Harrison's grandfather]. Dr. Norton requested that Miami Lighthouse supply the funds to build an eye clinic which would be run by the University of Miami School of Medicine and would be built on land owned by Dade County. This was agreeable to the Board of Directors of Miami Lighthouse. Ultimately, Miami Lighthouse provided the land and seed money, which was most of the funds the University of Miami School of Medicine needed to construct the Bascom Palmer Eye Institute's original building. The dedication of the Bascom Palmer Eye Institute took place on Sunday, January 21, 1962.
In late 1968 or early 1969 Dr. Norton once again requested the assistance of Miami Lighthouse. The Bascom Palmer Eye Institute needed more space. Miami Lighthouse contributed a substantial amount of money for this purpose. The fundraising was successful, and the building was built. Interestingly this new building was located on the four lots purchased by the Lighthouse in 1948.
The above text was compiled from information contained in a document prepared by Preston L. Prevatt, Esq., dated January 11, 1993, concerning Shutts and Bowen's ongoing involvement with Miami Lighthouse and Twenty-Five Years of Vision: The Story of Bascom Palmer Eye Institute, 1986.
A strong collaboration between Miami Lighthouse and Bascom Palmer Eye Institute continues today as both institutions are partners in transforming lives through vision rehabilitation. Recently, our Low Vision Occupational Therapist, our Chief Program Officer, and the University of Massachusetts Professor and director of Vision Studies co-authored a case study on vision rehabilitation for the first Florida resident to receive the Argus II "Bionic Eye," Bascom Palmer Eye Institute's first patient of this kind. The case study was published in the Journal of Visual Impairment and Blindness. Bascom Palmer residents serve a rotation at Miami Lighthouse where they learn about devices available to improve the quality of life of their low vision patients and the vision rehabilitation programs we offer for patients whose vision deficiencies cannot be corrected by medical intervention. Our Chief Program Officer Carol Brady-Simmons participates in weekly grand rounds at Bascom Palmer. She serves as a resource for the ophthalmologists who make referrals to Miami Lighthouse for low vision services and vision rehabilitation.
FLORIDA INTERNATIONAL UNIVERSITY
In fulfillment of our mission "to collaborate with and train professionals," since 2007 Miami Lighthouse has offered continuing education workshops "Engaging the Low Vision Community through Education, Research, and Service" for Occupational Therapists, Physical Therapists and Nurses in collaboration with Florida International University's Occupational Therapy Department. The goal of the workshop is to empower health care professionals with the knowledge they require to meet the needs of the growing number of patients who are impacted by vision loss. Starting in 2011, through collaborations with the FIU and Barry University, occupational therapy students interested in low vision complete their fieldwork experience at Miami Lighthouse under the supervision of our Licensed Occupational and Certified Low Vision Therapist. To date 64 Occupational Therapy students and two Certified Occupational Therapy Assistants have completed their practicum experience at Miami Lighthouse. This collaboration has resulted in two articles published in the scholarly journal for the profession ADVANCE for Occupational Therapy Practitioners: "Bringing Function into Focus: Implementing the Principles of Universal Design for the Low-Vision Population" and "Putting the Pieces Together: A Fieldwork Rotation at a Low Vision Residence brings Classroom Theories to Life." Raquel Van Der Biest, our Licensed Occupational and Certified Low Vision therapist was also invited to serve a two-year term on the FIU Occupational Therapy Advisory Committee.
MIAMI-DADE COUNTY PUBLIC SCHOOLS
Miami Lighthouse also has contracts with the School Board of Miami-Dade County. Children's programs contacts include pre-kindergarten, birth through age two, functional vision and learning media assessments, Braille transcribing, and a memorandum of agreement for our Florida Heiken Children's Vision Program to provide comprehensive eye examinations and prescription glasses to Miami-Dade County schoolchildren. Our Adult Basic Education Program is also offered in collaboration with Miami-Dade County Public Schools.

Receive a free website consultation for accessibility compliance today

Website Auditing



Find out how thousands of Florida schoolchildren receive free comprehensive eye exams and prescription eyeglasses each year

Florida Heiken Program


"Thank you from the bottom of my heart for the beautiful work that you do with my son Erick. May God bless him."
- Greila


"Miami Lighthouse for the Blind has changed the lives of my family and our daughter. Without your support and constant encouragement, raising an infant who is visually impaired would be overwhelming, scary and clouded with sadness. Instead, our family feels privileged to be able to be
a part of this incredible organization, thanks to our daughter. She is currently enrolled at the school
and has participated in the infant programs – the effort and individual attention you provide to the families and students goes beyond an individual
job description and salary – the drive comes solely from their passion to service those who are often overlooked in our society. I cannot thank you
enough for your dedication."
- Lisa Jess