Florida Blue Names Miami Lighthouse Winner of
2015 Sapphire Award
Miami Lighthouse was honored at the Florida Blue Foundation's 2015 Sapphire Awards as an outstanding nonprofit organization in community health care in recognition of distinguished leadership, innovation and achievements in community health. Penny Shaffer, Market President at Florida Blue, said "The Sapphire Awards embody our desire to recognize excellence among organizations, programs and individuals that have made a significant, positive impact on health-related outcomes for Florida's at-risk people and communities. Miami Lighthouse for the Blind has demonstrated excellence and serves as a model for others to emulate addressing their community's needs with unmatched dedication and courage." Finalists were selected by an independent panel of experts with state and national expertise in community health best practices. The announcement was at the Sapphire Awards Symposium luncheon on April 23, 2015. Miami Lighthouse is honored to have received such distinguished recognition.
Click here to view the Sapphire Award video.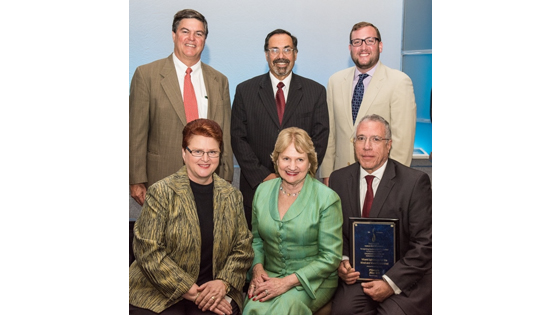 It's Healthy Vision Month! Make your Vision Last a Lifetime
To read the Florida Blue e-newsletter commentary by Virginia Jacko,
please click here
---
Upcoming Events
---
In the News
2015 Young Professionals of the Lighthouse (YPOL) host "Miami Lighthouse Legislative Luncheon" Underwritten by All Aboard Florida
The Young Professionals of the Lighthouse hosted the annual Legislative Luncheon on July 1st, honoring Miami Lighthouse champions in the Florida Legislature during the recent legislative session. Click here to visit the full summary.
Miami Lighthouse Received Beacon Award in Education
Miami Lighthouse for the Blind and Visually Impaired was recognized at the 13th Annual Beacon Awards on April 2, 2015, presented by the Beacon Council. Miami Lighthouse was selected as the recipient of the Beacon Award in Education. Beacon Council Chair Donna Abood noted that "Miami Lighthouse is both an employer and enables the visually impaired to be employed, and helps drive Miami's economic engine through capital improvement projects." We are honored to receive this recognition and express our sincere gratitude to the Beacon Council and our community.
Click here to watch Virginia Jacko's interview for the Beacon Award.
---


October 7th ribbon cutting celebration new fourth floor Sash A. Spencer Educational Empowerment Center.
Click here to read press release and
view additional pictures.




The Blind Visionary
All of Virginia's royalties and part of the publisher's
royalty income will be donated to blind services at
the Miami Lighthouse for the Blind
Click to read Ability Magazine




State of Vision
Sales of the "State of Vision" license plate support services to blind and visually impaired people. Miami Lighthouse is the recipient of a portion of the proceeds from the sale of this license plate. The cost is $25.00 in addition to the regular registration fee.