Florida Blue Names Miami Lighthouse Winner of
2015 Sapphire Award
Miami Lighthouse was honored at the Florida Blue Foundation's 2015 Sapphire Awards as an outstanding nonprofit organization in community health care in recognition of distinguished leadership, innovation and achievements in community health. Penny Shaffer, Market President at Florida Blue, said "The Sapphire Awards embody our desire to recognize excellence among organizations, programs and individuals that have made a significant, positive impact on health-related outcomes for Florida's at-risk people and communities. Miami Lighthouse for the Blind has demonstrated excellence and serves as a model for others to emulate addressing their community's needs with unmatched dedication and courage." Finalists were selected by an independent panel of experts with state and national expertise in community health best practices. The announcement was at the Sapphire Awards Symposium luncheon on April 23, 2015. Miami Lighthouse is honored to have received such distinguished recognition.
Click here to view the Sapphire Award video.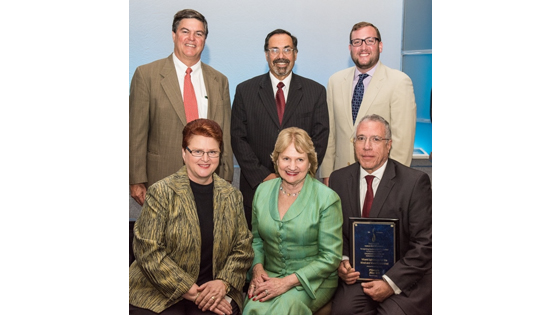 ---
Upcoming Events
---
In the News
Miami Lighthouse Received Beacon Award in Education
Miami Lighthouse for the Blind and Visually Impaired was recognized at the 13th Annual Beacon Awards on April 2, 2015, presented by the Beacon Council. Miami Lighthouse was selected as the recipient of the Beacon Award in Education. Beacon Council Chair Donna Abood noted that "Miami Lighthouse is both an employer and enables the visually impaired to be employed, and helps drive Miami's economic engine through capital improvement projects." We are honored to receive this recognition and express our sincere gratitude to the Beacon Council and our community.
Click here to watch Virginia Jacko's interview for the Beacon Award.
Publix chooses Miami Lighthouse for "Day of Service"
Publix, where "shopping is a pleasure," made Friday, April 17th a true pleasure for Miami Lighthouse by selecting us as the recipients of their "Publix Serves Day." Publix founded in 1930 and Miami Lighthouse founded in 1931 are celebrating their 85th anniversaries, and Publix is celebrating by giving back to the community.
Comcast Brings Voice Guided Television To Miami Lighthouse
Comcast today announced it is partnering with organizations dedicated to serving people with visual disabilities, including Miami Lighthouse for the Blind and Visually Impaired, to bring the company's new voice guidance technology to more people. The "talking guide" is a feature on the X1 platform that reads aloud selections like program titles, network names and time slots as well as DVR and On Demand settings, giving users the freedom to independently explore and navigate thousands of shows and movies.
Miami Lighthouse For The Blind And Visually Impaired Accredited By The National Accreditation Council
Miami Lighthouse for the Blind and Visually Impaired is pleased to announce that is has been accredited by the National Accreditation Council for Blind and Low Vision Services. Accreditation is a significant milestone in Miami Lighthouse's ongoing process of seeking to employ best practices and deliver services that focus on positive outcomes for consumers of blind and low vision services.
---
Click here to read Florida Guide Dog Protection Act and White Cane Law.
Click here to read Miami Lighthouse website accessibility statement.
Click here to read Miami Lighthouse's Report to the Florida Rehabilitation Council for the Blind.


Jan and Daniel Lewis, Agustin Arellano, Sr., Commissioner Sally Heyman, Mrs. Sash A. Spencer, Chair-elect Ray Casas, Virginia Jacko President & CEO, Carmella Witt, Mayor Tomas Regalado, Marta Weeks Wulf and Penny Stamps at Dedication Ceremony for new 4th Floor, October 7, 2014.
Click here to read press release and
view additional pictures.




Miami Marlins check presentation: PJ Loyello
Senior VP of Communications & Broadcasting,
David Samson Miami Marlins President,
Board Chair Agustin Arellano Jr.,
President & CEO Virginia Jacko,
Miami Marlins Outfielder Giancarlo Stanton,
Honorary Board Director Ray Casas and
Alfredo Mesa Executive Director of
Miami Marlins Foundation.




The Blind Visionary
All of Virginia's royalties and part of the publisher's
royalty income will be donated to blind services at
the Miami Lighthouse for the Blind
Click to read Ability Magazine




State of Vision
Sales of the "State of Vision" license plate support services to blind and visually impaired people. Miami Lighthouse is the recipient of a portion of the proceeds from the sale of this license plate. The cost is $25.00 in addition to the regular registration fee.