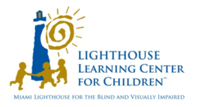 Grand Opening of New Lighthouse Learning Center for Children™ Building on August 16th
Miami Lighthouse has launched a new learning center for visually impaired children from birth through pre-kindergarten. To view progress on construction of the 72,000-square-foot Lighthouse Learning Center for Children™ click here. The Center will provide specialized early intervention and training to help "level the playing field" when these visually impaired children enter the public school system. Click here to learn more. The Lighthouse Learning Center for Children™ Dedication Ceremony will be on Wednesday, August 16th 2017 at 11:00am.
It's Possible to See Without Sight™
---
Upcoming Events
Miami Lighthouse for the Blind & Visually Impaired will host the official Dedication Ceremony of the Lighthouse Learning Center for Children™ on Wednesday, August 16th at 601 SW 8th Avenue. Click here to view an NBC National News video on the new program.
On October 16th Miami Lighthouse will celebrate its annual White Cane Day where an estimated 200 people of all ages escorted by City of Miami Police and Fire Departments, will walk from Miami Lighthouse, down 8th Street and back, where the celebration will continue with food and music featuring Miami Lighthouse Music Program musicians, guest speakers and special presentations.
---
In the News
Congratulations to the Lighthouse Learning Center for Children™ Pre-K graduates, Class of 2017!
Proud parents and teachers looked on as six adorable four-year olds, both sighted and visually impaired, paraded into the classroom to receive their Certificate of Achievement. Wearing caps and gowns for the big event, they were welcomed by Virginia Jacko, Miami Lighthouse President & CEO. Click here to read more about it.
MIAMI LIGHTHOUSE RATED AMONG TOP 1% OF U.S. CHARITIES BY NATIONAL EVALUATOR CHARITY NAVIGATOR
Miami Lighthouse has received nine consecutive 4-star ratings from the national evaluator Charity Navigator placing us in the top 1% of nonprofits in the nation. Among the approximately 8,000 charities evaluated, only 39 nonprofits are in the top 1%. There is no other nonprofit in Miami-Dade with this coveted distinction. Click here to read the full press release and you can find our rating on Charity Navigator here.
CBS News Features Miami Lighthouse Milestone Year!
Click here for the full feature.
This year not only marks 85 years of helping the visually impaired community; it also marks a year of expansion for Miami Lighthouse's campus. Thank you to all of our supporters and to CBS4 News for shedding light on our work to help the visually impaired live independently. "It's possible to see without sight.™".
Early Intervention Blind Babies Program Named the Children's Trust 2016 Program of the Year!
This most prestigious award recognizes this Early Intervention Program, in particular, for including parents as teachers. To view the video about the program click here.
Blindness no handicap for active CEO Virginia Jacko
Virginia doesn't consider blindness a problem. In fact, she describes her condition often as an asset. She is never distracted by what's going on around her, but can focus, using her other senses, which she says have taken over. To function in a sighted world, Virginia didn't bemoan her fate but realized that she simply had to learn to do things differently, which she did when she entered the Miami Lighthouse for the Blind and Visually Impaired's transformational rehabilitation program in 2001.
---
Miami Lighthouse offers website accessibility audits to private and public entities. We recommend solutions for making website content accessible for all users of assistive technologies. Click here to read "Give Visually Impaired Better Internet Access" an op-ed piece by Virginia Jacko in the Miami Herald. Click here to read "Let's Give the Blind Better Access to Online Learning" by Virginia Jacko, an article in the Chronicle of Higher Education.


"Miami Lighthouse for the Blind and Visually Impaired Case Study: Vision Rehabilitation for the First Florida Resident to Receive the Argus II "Bionic Eye" appeared in the May/June issue of the Journal of Visual Impairment and Blindness.
Click here to read the article.




The Blind Visionary
All of Virginia's royalties and part of the publisher's
royalty income will be donated to blind services at
the Miami Lighthouse for the Blind
Click to read Ability Magazine




State of Vision
Sales of the "State of Vision" license plate support services to blind and visually impaired people. Miami Lighthouse is the recipient of a portion of the proceeds from the sale of this license plate. The cost is $25.00 in addition to the regular registration fee.


STAR Summer Camp Children Testimonials

STAR is really cool. I like it because I get to be
with all my friends and learn a lot during summer,
from typing to art to music.
- Marino, age 12


STAR is fun because we get to read a lot, go on lots of field trips, use the computers and learn programs like PowerPoint. I make a lot of friends here and get to learn things with them. It's a lot better than staying at home watching TV during the summer!
- Madisleny, age 11


We learn a lot and have fun activities in STAR. The large print books I get have helped me a lot in school, and I like learning with a lot of friends that
I've made here during my second year in STAR at Miami Lighthouse.
- Taknighis, age 12