| | | | |
| --- | --- | --- | --- |
| | | | Miami Lighthouse is among top 2% of nonprofits in the nation |
"See The Light" video of
Miami Lighthouse's History and Programs

Click here to read our most recent Light Line™ Blog
---
In the News
Focus On South Florida: Miami Lighthouse for the Blind
The Miami Lighthouse for the Blind has been around for 84 years. It is the oldest and largest private agency in Florida to serve people of all ages who are blind or visually impaired. The Miami Lighthouse also seeks to raise awareness for guide dogs and service animals. It does so through its annual "Walk, Waggle and Stroll" dog walk. The event attracts hundreds of people and their dogs, whether they be guides, companions or just a regular family pet.
Comcast Brings Voice Guided Television To Miami Lighthouse
Comcast today announced it is partnering with organizations dedicated to serving people with visual disabilities, including Miami Lighthouse for the Blind and Visually Impaired, to bring the company's new voice guidance technology to more people. The "talking guide" is a feature on the X1 platform that reads aloud selections like program titles, network names and time slots as well as DVR and On Demand settings, giving users the freedom to independently explore and navigate thousands of shows and movies.
Miami Lighthouse For The Blind And Visually Impaired Accredited By The National Accreditation Council
Miami Lighthouse for the Blind and Visually Impaired is pleased to announce that is has been accredited by the National Accreditation Council for Blind and Low Vision Services. Accreditation is a significant milestone in Miami Lighthouse's ongoing process of seeking to employ best practices and deliver services that focus on positive outcomes for consumers of blind and low vision services.
National Accreditation Council for Blind and Low Vision Services Semi-Annual Meeting held at Miami Lighthouse
Miami Lighthouse was honored to host the semi-annual meeting of the National Accreditation Council for Blind and Low Vision Services (NAC) on January 9 and 10, 2015. The NAC Board of Directors is composed of heads of vision rehabilitation agencies, academics, and representatives of consumer agencies from throughout the United States and Canada. To read more, click here.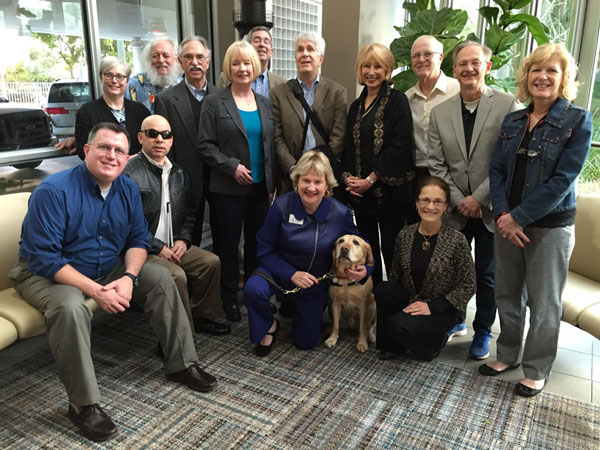 ---
Events
February 7, 2015 Engaging the Low Vision Community through Education, Research, and Service
On February 7, 2015 Miami Lighthouse in collaboration with the Florida International University Nichole Wertheim College of Nursing and Health Sciences Occupational Therapy Department offered a continuing education seminar for Occupational Therapists, Physical Therapists and Nurses to empower healthcare professionals with the knowledge they require to meet the needs of the growing number of patients who are impacted by low vision. The all day seminar was attended by 44 registrants who received continuing education credits for their participation. Topics related to low vision and blindness as they impact functioning and quality of life from birth through the adult years included infant development, assistive technology, communication, patient/family-centered care and independent living. Click here to read workshop evaluation summary.
---
Upcoming Events
---
Click here to read Florida Guide Dog Protection Act and White Cane Law.
Click here to read Miami Lighthouse website accessibility statement.


Jan and Daniel Lewis, Agustin Arellano, Sr., Commissioner Sally Heyman, Mrs. Sash A. Spencer, Chair-elect Ray Casas, Virginia Jacko President & CEO, Carmella Witt, Mayor Tomas Regalado, Marta Weeks Wulf and Penny Stamps at Dedication Ceremony for new 4th Floor, October 7, 2014.
Click here to read press release and
view additional pictures.




Miami Marlins check presentation: PJ Loyello
Senior VP of Communications & Broadcasting,
David Samson Miami Marlins President,
Board Chair Agustin Arellano Jr.,
President & CEO Virginia Jacko,
Miami Marlins Outfielder Giancarlo Stanton,
Honorary Board Director Ray Casas and
Alfredo Mesa Executive Director of
Miami Marlins Foundation.




The Blind Visionary
All of Virginia's royalties and part of the publisher's
royalty income will be donated to blind services at
the Miami Lighthouse for the Blind
Click to read Ability Magazine




State of Vision
Sales of the "State of Vision" license plate support services to blind and visually impaired people. Miami Lighthouse is the recipient of a portion of the proceeds from the sale of this license plate. The cost is $25.00 in addition to the regular registration fee.