Florida Blue Names Miami Lighthouse Winner of
2015 Sapphire Award
Miami Lighthouse was honored at the Florida Blue Foundation's 2015 Sapphire Awards as an outstanding nonprofit organization in community health care in recognition of distinguished leadership, innovation and achievements in community health. Penny Shaffer, Market President at Florida Blue, said "The Sapphire Awards embody our desire to recognize excellence among organizations, programs and individuals that have made a significant, positive impact on health-related outcomes for Florida's at-risk people and communities. Miami Lighthouse for the Blind has demonstrated excellence and serves as a model for others to emulate addressing their community's needs with unmatched dedication and courage." Finalists were selected by an independent panel of experts with state and national expertise in community health best practices. The announcement was at the Sapphire Awards Symposium luncheon on April 23, 2015. Miami Lighthouse is honored to have received such distinguished recognition.
Click here to view the Sapphire Award video.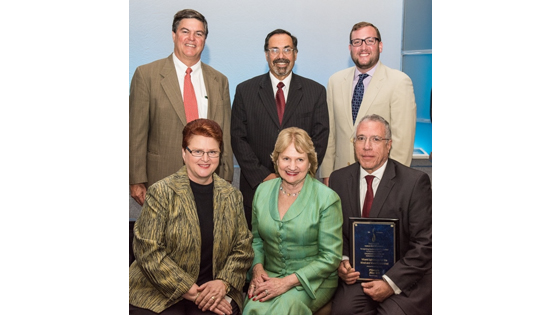 It's Healthy Vision Month! Make your Vision Last a Lifetime
To read the Florida Blue e-newsletter commentary by Virginia Jacko,
please click here
---
Upcoming Events
Celebrating 85 Years of Hope, Confidence and Independence

November 12, 2015 See the Light Luncheon
Celebrate the kickoff of 85 years of service to the blind and visually impaired community as more than 200 of South Florida's philanthropists and community leaders will attend the See the Light Luncheon at Riviera Country Club on November 12th 2015.
November 12, 2016 The 85th Jubilee Gala
The Grand Celebration of the 85th anniversary of Miami Lighthouse, Florida's oldest and largest private agency serving the blind and visually impaired, will take place at the historic Biltmore Hotel in Coral Gables on November 12th 2016.
September 18, 2015 YPOL Host Miami Lighthouse Chicken Championship – Wing Eating Contest
Join the Young Professionals of the Lighthouse on September 18th for a Chicken Championship Wing Eating Contest. Proceeds will benefit the Miami Lighthouse Music Program.
Click here to view the invitation.
October 5, 2015 Miami-Dade Optometric Physicians Association Monthly Meeting Sponsored by Essilor USA
Members of the Miami-Dade Optometric Physicians Association (MDOPA) will hold their October meeting at Miami Lighthouse on October 5, 2015 generously sponsored by Essilor USA.
October 15, 2015 Miami Lighthouse White Cane Day Walk
Miami Lighthouse will host the annual White Cane Day Walk on Thursday, October 15th to celebrate the national day of observance and raise awareness about the White Cane Laws.
Click here to view the flyer.
November 19, 2015 Give Miami Day

Give Miami Day is the biggest annual giving event in the Southeast U.S. This year, Give Miami Day will engulf Miami with philanthropy for 24 hours on November 19th. Give Miami Day allows all individuals in our community to make a philanthropic impact by collectively supporting our local nonprofit organizations. Twenty-four hours of giving begins at midnight on November 19 and ends at midnight on November 20, 2015. Please visit and make a charitable gift to Miami Lighthouse here givemiamiday.org.
---
In the News
Miami Lighthouse celebrates 85th anniversary with exhibit by blind artists
Victor Brown stood before a crowd attending Miami Lighthouse's 85th anniversary at the Miami Center for Architecture and Design (MCAD) building. He couldn't see the audience, but they could see him. Brown grew up with a detached retina, at first leaving him visually impaired and later blind. He's been attending Miami Lighthouse for the Blind and Visually Impaired in Little Havana for more than eight years. Brown's woven American flag, made with macrame yarn and stretching at about five feet, lay on display at MCAD along with other arts pieces by other blind Miami Lighthouse clients. The exhibit runs through Oct. 17 .
Bionic Eye a Success
Miami Lighthouse for the Blind & Visually Impaired is proud to have played an integral role in the remarkable story of Carmen Torres' "bionic eye," reported in the August 1 article "Letting the light in with new bionic eye." The Lighthouse's Chief Program Officer, Carol Brady-Simmons, and Occupational & Low Vision Therapist Raquel Van Der Biest worked with Torres after the Argus II Retinal Prosthesis System was implanted at Bascom Palmer Eye Institute.
Blind Children play Beep Baseball with Help from the Miami Marlins and Miami Lighthouse
Many children dream of playing pro baseball or football, but for blind and visually impaired children, those dreams can be out of reach. In tonight's special report, Beep Baseball, 7's Craig Stevens opens our eyes and ears to a new spin on a classic sport that has dreams coming through loud and clear.
Visually-impaired students tour Marlins Park
Children from the Miami Lighthouse for the Blind got a hands-on tour of the baseball stadium. The group were able to hold baseball bats, sit in the home dugout and hit the field.
2015 Young Professionals of the Lighthouse (YPOL) host "Miami Lighthouse Legislative Luncheon" Underwritten by All Aboard Florida
The Young Professionals of the Lighthouse hosted the annual Legislative Luncheon on July 1st, honoring Miami Lighthouse champions in the Florida Legislature during the recent legislative session. Click here to visit the full summary.
---


October 7th ribbon cutting celebration new fourth floor Sash A. Spencer Educational Empowerment Center.
Click here to read press release and
view additional pictures.




The Blind Visionary
All of Virginia's royalties and part of the publisher's
royalty income will be donated to blind services at
the Miami Lighthouse for the Blind
Click to read Ability Magazine




State of Vision
Sales of the "State of Vision" license plate support services to blind and visually impaired people. Miami Lighthouse is the recipient of a portion of the proceeds from the sale of this license plate. The cost is $25.00 in addition to the regular registration fee.